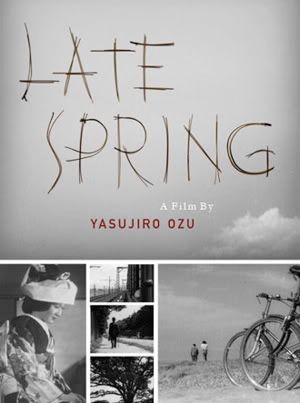 Plot from allmovie by Hal Erickson
Veteran Japanese writer/director Yasujiro Ozu's second postwar production was 1949's Late Spring or Banshun. Chisu Ryu plays another of Ozu's realistic middle-class types, this time a widower with a marriageable daughter. Not wishing to see the girl resign herself to spinsterhood, Ryu pretends that he himself is about to be married. The game plan is to convince the daughter that they'll be no room for her at home, thus forcing her to seek comfort and joy elsewhere. What makes this homey little domestic episode work is the rapport between Chisu Ryu and Setsuko Hara, who plays the daughter. Late Spring is no facile Hollywood farce; we like these people, believe in them, and wish them the best.
Plot from IMDB by Arnoud Tiele
Noriko is 27 years old and is still living with her father Somiya, a widower. Noriko just recovered from an illness she developed in the war, and now the important question pops up: when will Noriko start thinking about marriage? Everybody who is important in her life tries to talk her into it: her father, her aunt, a girlfriend. But Noriko doesn't want to get married, she seems extremely happy with her life. She wants to stay with her father to take care of him. After all, she knows best of his manners and peculiarities. But Noriko's aunt doesn't want to give up. She arranges a partner for her and thinks of a plan that will convince Noriko her father can be left alone.
http://www.nitroflare.com/view/F6A33DE12C4C8E1/Banshun.Xvid.Dual.avi
http://www.nitroflare.com/view/97F4930B1D0962D/Banshun.Xvid.Dual.idx
http://www.nitroflare.com/view/DD605F6E1E11040/Banshun.Xvid.Dual.rar
http://www.nitroflare.com/view/160BECBA7EC5C9D/Banshun.Xvid.Dual.srt
Language:Japanese
Subtitles:English(idx/vob & srt)