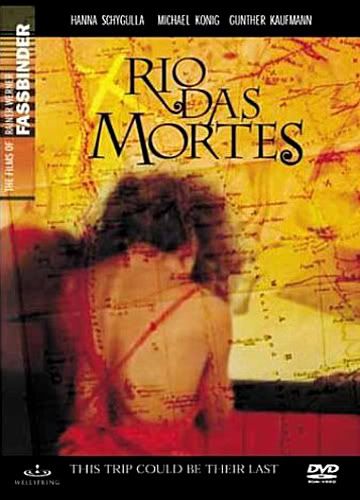 From Celluloid Breakfast:
In the opening scene of Rainer Werner Fassbinder's Rio Das Mortes, Hanna Schygulla repeats to herself a passage from a childcare book about achievement, indirectly teasing the two protagonists who are to be introduced later. Mike and Günther, feeling unfulfilled by infrequent employment and soured relationships, decide to unravel the mysteries of a treasure map, plotting a trip to Peru in the hopes of finding gold. Mike's girlfriend Hanna doubts the men's ability to organise such an excursion, but is crushed when they succeed, and tries to find whatever means she can to stop them.
One of ten films made by Fassbinder between 1970 and 1971, Rio Das Mortes appears to have suffered the most from a lack of focus, with thin characterisation and an unproductive narrative. Whereas the chain-smoking hedonists in his earliest films were consigned to their worthlessness, Mike and Günther are given a misleading goal and take an hour and a half to fail it. And even though the plot promises exploits of Herzogian proportions, there is not enough time in the film for anything to build up, and more importantly, nobody in the film appears to realise that Rio das Mortes is in Brazil. Whether intentional or not, the film offers a host of awkward laughs, particularly during a woeful fight where Günther's trousers split. There are glimmers of the familiar Fassbinder here, with Schygulla stealing the scene as ever, but all in all one wonders who, if anyone, was driving the film to its conclusion.
http://www.nitroflare.com/view/845B7FF08C901DA/Rio_Das_Mortes.mkv
Language(s):German
Subtitles:English